At your service
since 1948
For 75 years, Riverhead Building Supply has been the supplier of choice for quality-conscious builders, contractors, architects and homeowners in the Long Island and New England areas. Great service, knowledgeable full-time personnel, contractor sales representatives and a large inventory of top-quality products are why our building supply company is the right choice for your next project.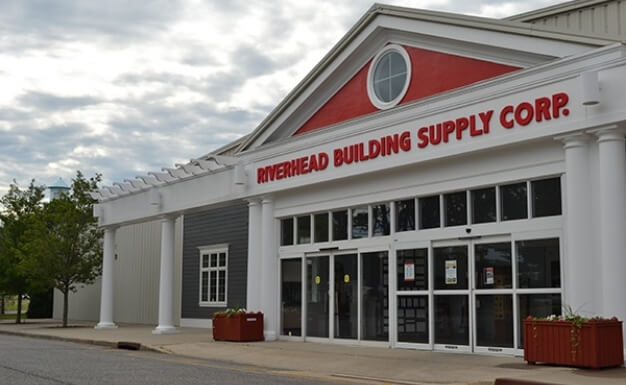 How it all began
Started in 1948, Jesse Goodale, his brother Harold, and their uncle Percy (Pete) Ketcham ran a farm supply on eastern Long Island. Since the farm was slow during winter, the brother's, under the suggestion of their father, partnered with their uncle to open a lumber yard.

While Harold tended the farm, Jesse ran the lumber yard on Ostrander Avenue, expecting to return to the farm in the spring, but never did. The Ostrander Avenue location would be the sole location for 27 years as Jessie continued to grow the building materials business on a person-to-person basis keeping customer service in the forefront.
It was in 1975 that Edgar and Russel Goodale, the second generation, opened the second location in East Hampton when they purchased Frank B. Smith Lumber. Under Edgar and Russel's tenure Riverhead Building Supply has expanded to 19 locations in four states, hundreds of vehicles, thousands of quality building material and hardware items and thousands of quality customers that consider Riverhead a true partner in their business.

As a second generation owner and Chairman, Edgar enjoys seeing multiple generations of families work and grow at Riverhead Building Supply; some stay and grow for decades.
Now our third generation of founding family operates the business and continues to maintain the perspective of company stewardship for their period of time. A total of five owners, brothers, sister, and cousins work across the company in a variety of roles every single day.
They remain dedicated to the mission of customer service, quality materials, and giving back to the local communities in which Riverhead operates, and continued growth with the help of over 800 family members.
Our History
Enjoy going back in time to view the many types of ads Riverhead Building Supply has ran over the past 75 years. Complied by print, radio, and television advertising, they capture moments in history that help us recall where we started and allow us to reflect on how far we have come.
Our mission
We will consistently provide our customers with professional service, competitive pricing, and quality materials while supporting our local communities and environment.
Giving back has always been a core value of the Riverhead Building Supply family. Jessie Goodale, founder, started his own version of 'Earth Day' way back in the 1960's when upon stepping down from a leadership role he took to the local thoroughfares of Riverhead collecting garbage off the streets. He would be seen all around town in his pick-up truck collecting garbage, making the community cleaner.
Today, the same clean-up occurs on each Earth Day around the Corporate Offices in Calverton, NY, not far from Jessie's footsteps many years ago.
Community and family are important to Riverhead Building Supply. Participating in local events and charitable organizations reflect on the core value of giving back. As an example, Edgar Goodale initiated Riverhead's participation in the first Habitat for Humanity home-build in Suffolk County, Long Island, 35 years ago. "The greatest joy is supporting the build with materials and employee volunteers and then seeing the finished product, a beautiful home that a local family will make many memories in."
We will always conduct business in an open, honest way that enables us all to sleep well at night.
We take extreme pride in what we do and remain committed to ensure the success of our customers, our employees, and our business.
We did not get here alone. We remain committed to supporting the local communities in which we do business in a varied number of ways.