How to Winterize Your Home: 9 things you can do right now
Your Fall Home Maintenance Checklist to get your home winter-ready
There's a slight chill in the air and you know what that means – winter is on its way. 
As you conduct your annual autumn chores of raking leaves and putting away your swimsuits to make room for sweaters, take some time to focus on preparing your home for winter and beyond. 
The following are some fall and winter home tasks to add to your to-do list: 
Ensure your windows and doors are sealed, insulated and energy-efficient
Properly sealing and insulating your windows and doors is essential for maintaining a comfortable and energy-efficient home. Here are some steps to help you prevent moisture and cold air from entering your home. 
First, check for air leaks by inspecting your windows and doors for any visible gaps or drafts. Look for cracks and openings around the window and door frames. If any are found, use caulking to seal any gaps or cracks you find around windows, door frames, and other penetrations. Silicone or acrylic latex caulk is typically used for sealing windows and doors. Make sure to apply a smooth and even bead of caulk to create an airtight seal.
For added energy efficiency, consider Window Replacement. Riverhead Building Supply has replacement solutions from Andersen Windows and Marvin Windows to suit any style of home. For example, if your home has Andersen Narroline double-hung windows, we have a replacement kit that makes replacing windows quick and easy, and we can even do it for you. You'll get brand new Andersen double hung windows, with very little disruption to your home. The windows fit into your existing frame so that siding or drywall and trim is not disturbed. The new windows give you better energy efficiency year round, as well as new warranties on glass and parts. Find out more by contacting our installation department.
Installing storm windows or doors can provide an extra layer of insulation, particularly for
older windows and doors. They create a buffer zone that helps to reduce heat transfer. Call us now to install a new Andersen Storm door over your entry door. It's an affordable option that can reduce heat loss, and provides more light in your home on milder days. The Andersen 8 Series storm door has a retractable screen  – go from weather protection to ventilation without having to remove and store a panel. The storm door is weatherstripped on the top, bottom, and sides to help reduce drafts.
Properly sealed and insulated windows and doors can significantly improve your home's energy efficiency, reduce heating and cooling costs, and make your living spaces more comfortable. It's an investment that can pay off in terms of both comfort and energy savings.
If you are in need of replacement windows, visit your local Riverhead Building Supply Showroom 
Check your heating system 
Have your heating system cleaned and serviced. Clean or replace filters in your HVAC system or air purifiers. If you use a fireplace regularly in the winter, have your chimney cleaned and professionally inspected.  Test your home's smoke and carbon monoxide detectors and replace batteries. When it comes to safety, you can never be too prepared. 
Assess your home toolkit and ensure you have those "must-have" tools 
Even if you are not a serious DIYer, every homeowner should have a collection of hand tools and power tools to tackle small repairs or tasks around the house. Save money by doing some simple jobs yourself. 
Whether you want to hang up a picture, fix a leaky faucet, or assemble a chair, having a well-equipped home toolkit will help ensure that you have quick access to the tools required to complete your project. 
Some tools to consider for your home toolkit include a drill, a hammer, screwdriver and wrench sets, and a hand saw. When choosing your tools, look for premium brands such as Stanley, DEWALT, Bostitch® and Makita that manufacture quality products that will make your work easier.  A basic hammer is something everyone should have, choose the one that's comfortable for you from our selection of different weights and types in stock. This DeWalt cordless drill kit with 20V atomic battery will help you power through home tasks with ease. And no home should be without a set of screwdrivers, or this handy Lutz 15-in-one screwdriver that is a true multi-tasker.
Add insulation
A well-insulated home is crucial for the cold winter months. Adequate insulation will help you stay comfortable and make your home more energy efficient. If you need more insulation, don't wait until you feel an icy breeze in your bedroom. Add spray foam insulation now to fill in gaps between wall and attic framing studs. You'll keep frigid air out and your heating costs down. Check your pipes, and add pipe insulation if needed.
Inspect your roof; clean gutters and downspouts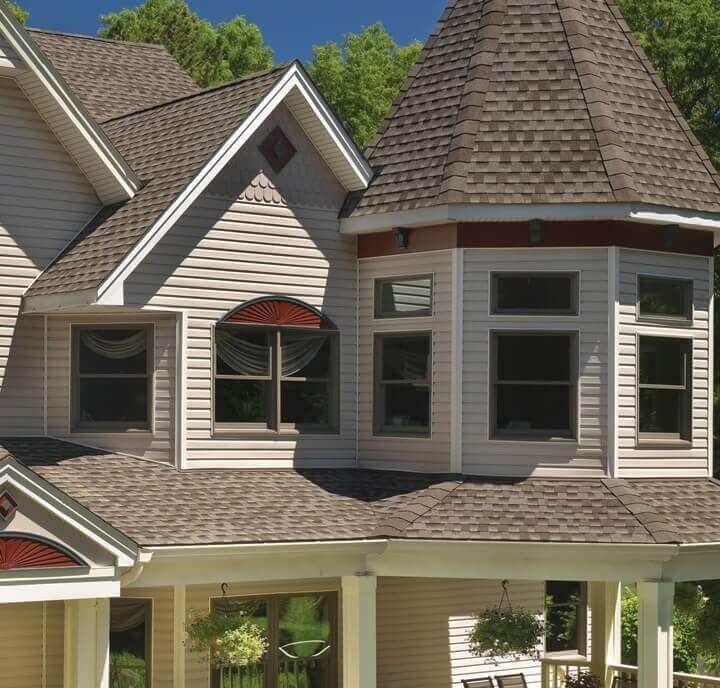 Maintaining your roof and gutters is essential to protect your home from water damage andensure its longevity. First, examine your roof for loose or damaged shingles. Look for signs of missing, curling, cracked, or broken shingles. Pay attention to any shingle granules in your gutters, as excessive granule loss can indicate shingle wear.  If you find damaged shingles, replace them promptly with one of the many GAF shingles we have in stock.
Be sure to check the flashing around roof penetrations, like chimneys, vents, and skylights taking notice that the seals are intact and not cracked as damaged flashing can lead to leaks. 
Make sure to remove leaves, branches, and other debris from your roof and gutters, as they can trap moisture and accelerate shingle deterioration and water damage.  In addition, check the slope and alignment on gutters and downspouts and adjust if necessary. Make sure the gutters are securely attached to your fascia and properly aligned.
Keep pests out in the cold
Check the exterior of your home and garage for small gaps or cracks that could allow mice, squirrels, or other pests to get inside.
Drain outdoor faucets
Disconnect and store hoses; shut off outdoor faucets; and drain any remaining water to prevent frozen pipes. Check pipes in unheated spaces inside, such as crawl spaces, to make sure they are insulated.
Test outdoor lighting
It's getting dark earlier, make sure you have adequate outdoor lighting to illuminate walkways and your driveway. Test everything to make sure all lights are working and pointed in the right direction to keep you and your visitors safe.  
Store or cover outdoor furniture
Store outdoor furniture, or cover it for the winter to protect it from the elements.
This fall maintenance checklist can help you to get started on preparing your home for colder weather, ensuring that your home is comfortable, safe and energy efficient throughout the winter. Need help with window replacement installation, roofing, insulation or other ways to winterize your home? Visit a Riverhead Building Supply location or contact us today and our team of experts can help guide you.